Launched in 2017, Webull leveraged technology to make trading free, fast, and accessible for self-directed investors through its mobile apps. With $0 commissions across stocks, ETFs, and options alongside crypto trading, Webull provides an affordable platform catering to active traders.
However, Webull does have limitations around account types, asset classes, research, and more that investors should factor in. This in-depth Webull review covers everything you need to know to decide if its strengths align with your investing approach.
We'll analyze Webull's trading features, account options, tools, supported investments, security, company background, and more. You'll understand how Webull compares against rivals like Robinhood when finish reading. Let's dive in!
What is Webull?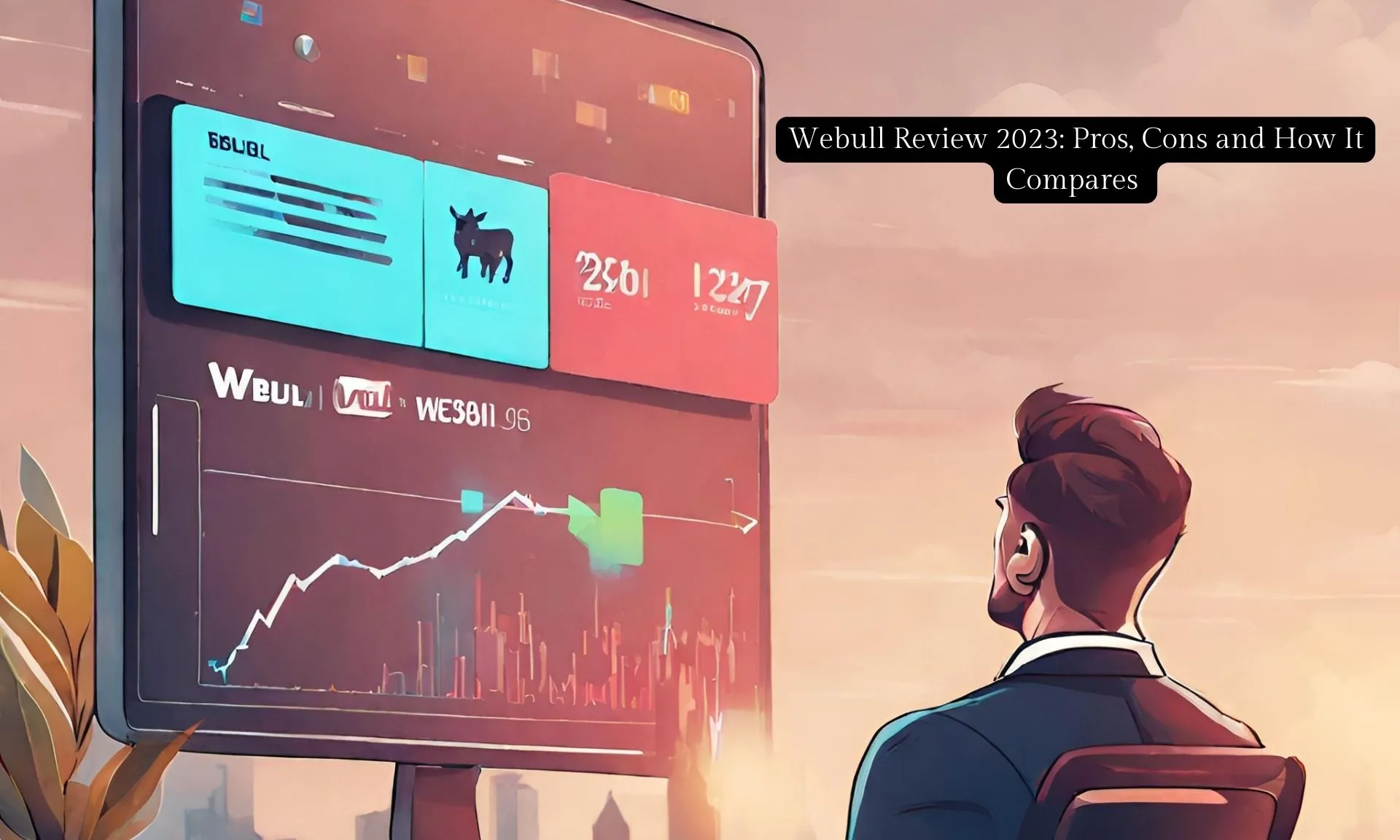 Webull Financial LLC is a fintech broker founded in 2017 that offers commission-free trading of stocks, ETFs, options, and cryptocurrencies through web and mobile apps.
Key facts about Webull:
Founded by CEO Anthony Denier, a former executive at Fidelity and Barclays.

Headquartered in New York City with an office in Florida.

Introduced $0 commissions on stocks, ETFs, and options in 2017. 

Added fractional share investing in 2021.

Launched Webull Crypto for trading digital currencies in May 2022.

Over 15 million downloads of Webull's mobile apps. 

Clearing and custody provided by Apex Clearing.  

Received B rating from Better Business Bureau. 
While Webull once aimed to directly challenge Robinhood, its strategy has shifted towards international growth and crypto services in recent years after facing regulatory scrutiny in the US.
How Does Webull Work?
Webull functions like a traditional online broker in many ways but with a focus on fast, easy mobile trading:
Users sign up on the Webull website or mobile apps by providing basic personal details. No minimum balance required. 

Funding via ACH bank transfer, wire, or crypto deposit. No funding via credit cards allowed.

Access to stocks, ETFs, options, and cryptocurrencies to trade commission-free.

Trades executed quickly through mobile apps, web browser platform, or direct API integration.  

Tools for charting, level 2 data, research reports, and paper trading simulations provided.

Crypto held by Apex Crypto LLC, not directly by the investor.
While convenient for trading, Webull does not currently support mutual funds, bonds, forex, or other traditional investment products.
Webull Account Types
Webull started with only individual taxable accounts but has expanded into retirement accounts:
Individual Trading Account
Standard taxable account with no minimum balance to start trading.
Individual Retirement Accounts (IRA)
Traditional, Roth, Rollover, and SEP IRAs available. Useful for tax-advantaged retirement investing.
Investment Club Accounts 
Join or create a group investing account to discuss ideas while maintaining separate brokerage accounts.
No Joint Accounts
Only individual accounts are supported – no joint brokerage or IRA accounts.
Compared to full featured brokers, Webull lacks custodial accounts, trusts, 529 college savings plans, and joint investment accounts.
Opening a Webull Account
Opening a Webull account can be done fully digitally in just a few minutes:
Download the iOS/Android app or visit Webull website and click "Open Account".

Enter your name, email, date of birth, and create account credentials. Agree to disclosures.

Provide your SSN for instant identity verification and activate two-factor authentication.

Accept Webull's margin trading agreement to remove trading restrictions.

Fund your account via ACH deposit, wire transfer, or crypto wallet transfer. 
Once your account is funded, you can immediately start trading stocks, ETFs, options, and cryptocurrencies commission-free on Webull's platform.
READ ALSO: BYDFI Cryptocurrency Exchange Review 2023 
Funding Your Webull Account 
You'll need to move funds into your account before you can start investing or trading. Here are the available funding options:
ACH Bank Transfer: Connect a checking or savings account to transfer funds. Takes 4-5 days to clear but low cost.
Wire Transfer: For same day deposits. $15 incoming wire fee may apply.  
Crypto Deposit: No fee deposits from external Bitcoin, Ethereum or Tether wallets.
No Debit/Credit Cards: Can't directly fund account with cards unlike some competitors. 
ACH deposits are the most common method used due to the slow processing but low cost. Remember to wait for funds to fully settle before trading to avoid violations.
Webull Investment Products
Once funded, you can invest in the following assets and tradeable securities on Webull's platforms:
Stocks
Commission-free trading on over 8,000 U.S. exchange-listed stocks.  

No OTC or foreign stocks supported.

Fractional share investing in select stocks with a minimum of $5.
ETFs
Access to over 2,300 exchange-traded funds from top issuers like Vanguard and iShares.

No mutual funds, closed-end funds, or leveraged ETF products. 

Fractional share investing enabled for ETFs.
Options 
Trade options on stocks and ETFs with no base, contract, or assignment fees.

Exercise and assignment settled in real shares – no cash settlement.

Limited tools for complex options strategies like spreads or iron condors.
Cryptocurrencies
Trade 20 top cryptos and stablecoins commission-free through Webull Crypto app.

1% spread markup indirectly charged on crypto trades.

Assets custodied by Apex Crypto, not directly by investor.
No access to bonds, forex, futures, mutual funds, CDs, or other common investment products. Webull focuses solely on stocks, ETFs, options, and crypto.
Key Webull Features
Beyond just trading, Webull differentiates itself through social community features, contests, and content:
Webull Community
Interact with other traders on stock discussion boards and posts.

Follow investors to see their portfolios, watchlists, and post reactions. 

Share your own trading ideas and portfolios to gain followers.

Participate in paper trading contests for prizes valued up to $500,000.
Webull Financial News & Analysis
Curated news feed aggregated from multiple trusted financial media outlets. 

Research reports and earnings analysis generated by Webull's editorial team.

The Bid

podcast and

Webull Daily

newsletter cover markets.
The social community and wealth of propriety news and analysis make Webull feel more engaging compared to minimalist competitors.
READ ALSO: Robinhood Review 2023: Pros, Cons, and How It Compares
Webull Trading Platforms
For traders, Webull provides several platforms to analyze markets and make trades:
Desktop Platform 
Fully-featured desktop application for Windows and MacOS. Live data streaming.

Advanced charts, screening, complex order types, level 2 quotes, and other robust tools.

Customizable workspace and layouts. Thinkorswim-style experience.
Mobile App
Sleek iOS and Android apps tailored for easy mobile trading.

Gesture-based one-tap trading and alerts setup using fingerprints. 

Intuitive navigation and risk management checks like trade approvals.
Web Browser
Access core Webull website tools and trading through any modern web browser.

More convenient but scaled-back experience compared to desktop and mobile apps. 

Limited charting, research, and customization capabilities. 
Webull Desktop offers the most robust trading capabilities while the mobile app provides the best quick trading experience on the go.
Webull Research and Education
Webull aims to equip clients with knowledge and data versus purely self-directed trading:
Education Center 
Webinars, courses, and videos tailored for investing skill levels from beginner to advanced. 

Earn achievement badges as you complete curriculum milestones.
Trading Academy
Virtual paper money environment to practice trading strategies risk-free.

Participate in global trading contests to compete against others.
Analyst Ratings 
Aggregated Wall Street analyst ratings and price targets for stocks.

Quant ratings, risk analysis, and crowdsourced investor sentiment.
News & Analysis
Streaming news feed from reputable financial media publishers.

Multi-perspective market commentary from in-house Webull experts.
Research Reports
Company deep dives and earnings analysis generated by Webull's editorial team.

Basic financial data via Nasdaq and regular SEC filings.
The educational content and actionable data make Webull great for learning alongside trading. But research is still limited compared to established brokers.
READ ALSO: Coinbase: A Beginners Guide to the Leading Cryptocurrency Exchange
Webull Charting and Tools
Webull stands out for its comprehensive charting and analysis capabilities accessible across all platforms:
Advanced Charting
Interactive charts with dozens of technical indicators and drawing tools for trends and patterns.

Compare multiple securities and benchmarks side-by-side.
Level 2 Market Data
Natively integrated Level 2 data with clearly visualized market depth. 

Analyze bid/ask spreads, liquidity, and full order book activity.
Multiple Order Types
Advanced trades like trailing stops, limit orders, margin buys, etc.

One-click order templates optimized per asset class.
Custom Scans and Alerts
Screen for stocks using custom filters and criteria.

Configure price, volume, earnings, analyst rating alerts via email, text, or push.
For casual investors, Webull provides all the must-have tools. Active traders get far more customization and functionality compared to basic platforms.
Webull Cryptocurrency Trading 
After years of investor demand, Webull finally launched cryptocurrency trading in 2022 through Webull Crypto:
Accessible from Separate App: Webull Crypto available on iOS and Android specifically for crypto.
Trading Hours: Trade Bitcoin, Ethereum, and other coins 24/7 with no weekend closures. 
No Explicit Commissions: Instead a 1% spread markup is indirectly charged on the spread as revenue.
Stablecoin Support: Major stablecoins like USDT and USDC available to trade against other cryptos.
Partial Coins Supported: Buy fractional amounts of coins down to $1 worth. 
Limited Altcoin Selection: Around 20 popular cryptos compared to 100+ at full crypto exchanges. 
No Token Withdrawals: Assets custodied by Apex Crypto. Users cannot withdraw to external wallets.
Educational Resources: Webull provides crypto explainers, how to guides, and market data.
The Webull Crypto app provides basic retail investor access to cryptocurrencies. But hardcore crypto traders may still prefer specialized platforms.
Webull Plus Analysis Service
For investors and traders seeking professional-grade market data, Webull offers an optional paid subscription service called Webull Plus:
$9.99/Month: Unlocks exclusive data, tools, information and analysis.
NASDAQ Level 2: See detailed Level 2 order book activity and depth during market hours. 
Morningstar Research: Get in-depth fundamental company analysis from a top research provider.
S&P Global Ratings: View detailed long and short-term credit rating analysis for corporate bonds.
ValuEngine Analyst Recommendations: See ValuEngine's independent stock recommendations and analysis.
Hard to Borrow List: Monitor securities with high short interest and fees.
Unlimited Screeners: Access enhanced screener capabilities to filter for stocks.
For most individual investors, the free tools are likely sufficient. But Webull Plus caters to professionals, institutions, and dedicated retail traders.
Webull Debit Card
Webull offers an optional Visa debit card that lets you conveniently spend your brokerage account balance:
Webull Zero Debit Card: Spend account funds anywhere Visa is accepted. Acts like a brokerage ATM card.
No Minimum Balance: No maintenance fees or minimum balances. (But insufficient funds fees can apply).
Contactless: Supports Apple Pay, Google Pay, and Samsung Pay.
Cash Back Rewards: Up to 7% cash back on rotating bonus categories each month when you spend at least $100. All other purchases earn 1% base cash back.
Free ATM Access: No fees for using in-network AllPoint ATMs to withdraw cash. International fees may apply.
FDIC Insured: Funds insured up to $250,000 through partner banks.
The debit card and associated rewards program allow accessing Webull funds outside the app for daily spending.
Webull Stock Lending Income Program
Webull gives investors an opportunity to allow lending out fully paid, idle shares in their account to generate extra income:
Passive Income: Earn daily interest on stocks and ETFs loaned out to short sellers and financial institutions.
Account Credits: Interest earned distributed daily in cash to account balance or trade credits. 
Fully Collateralized: Webull and partners provide collateral against borrower default equal to 102% of the loaned security's value.  
Daily Mark-to-Market: Necessary collateral adjusted daily based on closing price to maintain 102% ratio.
Flexible Participation: Pick specific securities to enroll or opt out anytime. $2,500 account minimum to participate.
15% Fee: Webull charges a 15% fee on interest earned for facilitating and administering the lending program.
For eligible long-term buy-and-hold shareholders, the stock lend program can generate reasonable yields often far better than a high yield savings account. But ensure you understand the risks before participating.
Webull Security
Webull uses bank-level security safeguards to help protect client accounts and data:
AES 256-bit encryption used for securing sensitive user information and data in transit and storage.

Optional two-factor authentication via Authenticator apps or security keys.

Device confirmation emails sent when new devices access account.

Email verification required for key account changes. 

Segregated accounts at Apex Clearing hold client cash and securities.

SIPC protects securities up to $500,000 in assets (including $250,000 cash).

Additional "Excess of SIPC" coverage from insurers like Lloyd's of London for any gaps in SIPC protection.

AI and machine learning used to monitor for suspicious account activity.
Webull leverages many security best practices used across the financial industry to try to keep client funds and data safe. But as with any brokerage, protection is ultimately driven by the user.
READ ALSO: Binance Reviews 2023: Details, Pricing,  Features
Webull Fractional Shares
Webull supports fractional share investing, which lets users buy a slice of a single share at prices as low as $1:
Affordable Entry: lowered minimums substantially below full share prices.
Dollar-Based Investing: Buy fractions based on how much you want to invest. Enter $500 instead of 5.238 shares.
Broad Selection: Over 250 popular stocks and ETFs supporting fractional investing.
Automatic Reinvestment: Dividends automatically reinvested but limited to whole shares only. 
Limited Trading: Can only buy and sell fractional shares, not transfer them externally.
Fractional share investing significantly improves accessibility to high-priced stocks and ETFs. But whole shares are still required for transfer and dividend reinvestment.
Webull Customer Support
Webull provides customer support during extended hours every day:
Customer Service: Phone and email support available 24/7 year-round. Direct numbers by location.
Live Chat: Live chat with support agents during market hours through the app. Fast responses. 
Help Center: FAQs, trading guides, quick tips, and explanations for common questions.
Social Media: Active Facebook and Twitter accounts offering updates and quick assistance.
Local Events: Educational seminars and networking events held across 25 cities.
Phone support availability 24/7 and multi-channel options distinguish Webull from minimal support alternatives. But in-person branches are lacking.
How Does Webull Make Money?
With $0 commission trading, Webull generates revenue in the following ways instead of trading fees:
Stock Loan Rebate Earnings: Earns revenue by lending out client's fully-paid shares to generate interest from short sellers and clearing houses. Webull receives approx. 17% of the loan interest after paying clients the gross amount.
Gold Service Subscription Fees: Optional premium subscription for margin, Morningstar ratings, and NAASDAQ Level 2 quotes costs $9.99/month.
Margin Interest: Loans out margin investing leverage funds to clients and earns interest income from borrowers. Rates vary based on market demand.
Payment for Order Flow: Earns money by routing equity, options, and cryptocurrency orders out to market makers like Virtu and Citadel Securities. A common industry practice.
Stock and ETF Plan Fees: Charges $0.02 per share for broker-assisted transactions made through automated investing plans like DRIPs. Self-directed trades remain commission-free.
Webull is transparent about how they generate revenue compared to some competitors. But payment for order flow remains controversial.
Webull Referral Bonus 
Webull offers new users free stocks for funding a new account via a referral program: 
2 Free Stocks: Receive 1 free stock worth $3-$300 for opening & funding a Webull
Person You Refer Gets 1 Free Stock: After signing up via your referral link, they also get 1 free stock valued between $3-$300 once their account is funded.
Stocks Randomly Selected: The free stocks awarded are randomly chosen from Webull's inventory each promotion. All have a value of at least $3 per share.
Funding Required: To earn the free stocks, both the referrer and the person referred must deposit any amount into their Webull account.
Limits Apply: Referral bonuses limited to 10 free stocks per referrer account per year. Referral stocks must be claimed within 30 days.
Schedule: Stocks are credited on the 1st business day after funding clears. Takes 5-7 days to receive them after claiming.
Sell or Hold: Free stocks can be held or sold immediately for cash which can be withdrawn.
Tax Forms Issued: You are responsible for applicable taxes on the value of stocks received.
While not guaranteed to be valuable stocks, the referral program offers a decent incentive for getting friends and family to try Webull's trading platform.