Over the past few years, cryptocurrency has transitioned from a niche investment to a mainstream asset class worth over $1 trillion collectively. As interest in crypto has grown, Coinbase has emerged as the most popular platform for buying, selling, and managing digital currencies.
Founded in 2012, Coinbase is a cryptocurrency exchange where users can trade top cryptocurrencies like Bitcoin, Ethereum, and Solana. With over 89 million verified users and $255 billion in assets traded, Coinbase has become the go-to platform for crypto newcomers looking for an easy way to invest in digital assets.
In this detailed guide, we'll provide an overview of Coinbase, explain how it works, discuss supported cryptocurrencies, account security, fees, and more. We'll also provide a step-by-step tutorial on how to use Coinbase as a beginner.
What is Coinbase?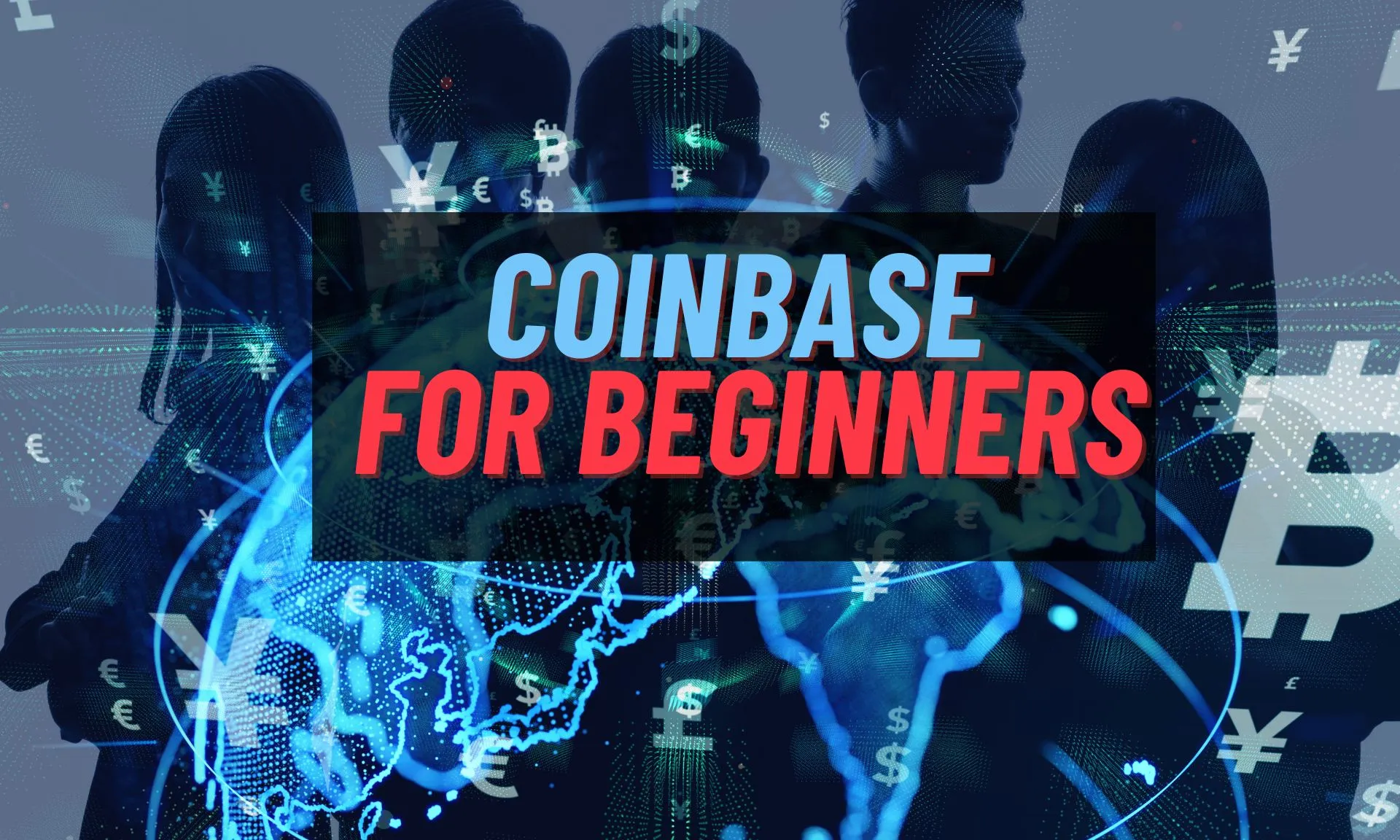 Coinbase is a San Francisco-based cryptocurrency exchange platform that allows users to securely buy, sell, store, send, and receive popular digital currencies like Bitcoin, Ethereum, and Solana. 
It provides beginners with one of the easiest ways to invest in crypto through its user-friendly interface. Users can fund their Coinbase accounts with a bank account, debit card, or wire transfer and then make trades in just a few clicks.
Some key things to know about Coinbase:
Founded in 2012 and based in San Francisco, California. 

Compliant with regulations in the jurisdictions it operates in.

Insured custodial wallets to secure user funds.

Supports over 120 different cryptocurrencies.

Over 89 million verified users worldwide.

Traded volume exceeds $255 billion to date.

Accessible via the website, mobile app (iOS and Android), and API.

Aimed primarily at beginner retail crypto investors.
In addition to its main consumer product, Coinbase also offers the following products:
Coinbase Pro: Advanced trading platform with low fees aimed at active traders. Supports advanced order types and charting tools.
Coinbase Wallet: Non-custodial crypto wallet giving users full control of private keys. Allows access to decentralized apps and DeFi.
Coinbase Commerce: Tool for merchants to accept crypto payments from customers online.
Coinbase Cloud: Enterprise-grade infrastructure for storing crypto safely.
How Does Coinbase Work?
Coinbase makes trading cryptocurrencies easy by abstracting away the complexity of dealing with the underlying blockchain technology. Here is a quick rundown of how Coinbase works:
Sign Up

: Users sign up by providing personal information and adding payment methods. ID verification required.

Fund Account

: Deposit money into Coinbase account using bank account, debit card, wire transfer or crypto deposit.

Make Trades

: Place buy/sell orders for supported crypto. Trades executed immediately at quoted price (brokerage service).

Store Assets

: Coins held in insured, custodial wallets. 2FA available for account security.

Withdraw Funds

: Withdraw to a bank account or send crypto to an external wallet. Subject to withdrawal limits.
Coinbase handles all the backend interactions with various blockchains like sending crypto transactions, blockchain queries, crypto custody, and more. This abstracted experience is easy for beginners to understand.
For advanced traders, Coinbase Pro offers a more robust trading experience with additional features comparable to traditional brokerages.
Supported Cryptocurrencies
Coinbase supports over 120 cryptocurrencies on its platform as of January 2023. While not as extensive as some exchanges, they offer most of the top cryptocurrencies that see meaningful trading volume.
Some notable cryptocurrencies supported by Coinbase include:
Bitcoin (BTC): The first and most well-known cryptocurrency. Coinbase has full support for trading BTC.
Ethereum (ETH): Second largest crypto by market cap with full support on Coinbase. Used for decentralized apps. 
Solana (SOL): High-performance blockchain with fast transactions. A top 10 crypto fully supported on Coinbase.
Polygon (MATIC): Scaling solution for Ethereum aimed at cheaper gas fees.
Dogecoin (DOGE): Popular meme-inspired cryptocurrency with a large community. 
Shiba Inu (SHIB): Another meme coin similarly inspired by the Shiba Inu dog breed.
Litecoin (LTC): One of the earliest altcoins designed for faster transactions. 
And over 100 more cryptocurrencies.
Coinbase will selectively add support for new cryptocurrencies based on their evaluation process. Users can request additions by contacting Coinbase Support.
Creating a Coinbase Account
Creating a Coinbase account only takes a few minutes and requires basic personal information. Follow these steps to sign up:
Go to [coinbase.com](

http://coinbase.com

) and click "Get Started" to begin the signup process.

Enter your first and last name as it appears on your government ID. 

Choose your country of residence from the dropdown.

Enter your email address and choose a strong password.

Agree to Coinbase's terms of service by checking the box.

Verify your email address by clicking the confirmation link sent to your inbox.

Enter your phone number and verify it with the code sent via SMS. 

Complete identity verification by providing your government issued ID. 

Optionally enable two-factor authentication for added security.
Once your account is created, you can start funding it with cash and begin trading cryptocurrency. Be sure to fully verify your identity as required by law before making large deposits and withdrawals.
Funding Your Coinbase Account
Before you can buy crypto on Coinbase, you'll need to deposit money into your account. Here are some of the main methods that Coinbase supports for funding accounts:
Bank account: Link your bank account to transfer USD into your Coinbase account. Takes 3-5 days but no fees.
Debit card: Instantly deposit cash and buy crypto. Fees of around 1.5% per transaction apply.  
Wire transfer: Deposit directly from your bank account via wire. Takes 1-3 days with bank fees.
Cryptocurrency deposit: Deposit from an external crypto wallet. Instant with no deposit fees.
PayPal (US only): Instantly fund Coinbase with PayPal. Can't withdraw back to PayPal.
Apple Pay (US only): Use Apple Pay to instantly buy crypto with debit card.
Bank account transfers are the cheapest way to fund your account if you are willing to wait a few days. Debit cards are instant but have higher fees.
READ ALSO: What is Ethereum? A Comprehensive Guide to Understanding The World's Leading Blockchain Platform
Buying and Selling Crypto
Once your account is funded, you can start buying and selling cryptocurrencies on Coinbase. Here is the basic process:
Log in to your Coinbase account.

Click on "Trade" and select "Buy" or "Sell". 

Choose the crypto you want to buy or sell.

Enter the dollar amount or quantity to trade. 

Preview the transaction details including fees. 

Confirm the transaction to execute the trade.
It's important to note that Coinbase prices trades based on the mid-market price of crypto assets plus a spread determined algorithmically. This means you may pay a premium compared to exchanges offering direct market access.
Coinbase Fees
Coinbase uses a fee structure that can seem complicated at first compared to simple trading commissions. Here is a breakdown of the main Coinbase fee types:
Spread: The difference between buy and sell prices quoted. Varies based on market conditions.
Coinbase Fee: Flat transaction fee added to spread. Depends on payment type and region.
Network Fee: Additional fee paid to blockchain network for processing transactions.
In practice, you'll end up paying between 1% – 4% in total fees when accounting for spread, Coinbase fees, and network fees. Debit card purchases incur the highest fees.
Coinbase Pro offers significantly lower trading fees starting at 0.5% for market makers and 0% for limit orders, but the interface is geared more towards active traders.
Coinbase Security 
When it comes to storing cryptocurrency on exchanges, security should always be a top concern given the risk of hacking. Here are some of Coinbase's main security features:
Secure Storage: 98% of crypto funds held offline in cold storage. Remaining funds insured. 
FDIC Insurance: Cash balances up to $250,000 insured by the FDIC.
Two-Factor Authentication: Optional 2FA via Authenticator app or security key for account logins.
Address Whitelisting: Address whitelisting to prevent crypto being sent to unknown wallets.
AES-256 Encryption: Wallets encrypted with AES-256 encryption to secure private keys.
SOC Certifications: SOC 1, 2, and 3 security compliance audits.
Insurance Coverage: Custodial crypto funds insured completely by private insurers.
Coinbase has never been hacked and lost customer funds. While no exchange is completely immune from potential security failures, Coinbase invests heavily in security measures to keep user funds as safe as possible. Using two-factor authentication is highly recommended for all users.
Getting Started on Coinbase 
Here is a step-by-step guide to getting started buying and selling crypto on Coinbase:
Step 1: Sign Up for a Coinbase Account
Go to [coinbase.com](

http://coinbase.com

) and click "Get Started" to create an account.

Verify your identity by providing your legal name, email, phone number, and photo ID.

Enable two-factor authentication for added security.
Step 2: Add a Payment Method
From the account dashboard, click "Add Payment Method" to link a funding source.

Choose a payment method such as a bank account, debit card, or wire transfer.

Verify your payment method by following the instructions.
Step 3: Deposit Funds 
Once your payment method is linked, click "Deposit" on the top menu bar.

Choose your linked payment method, enter the deposit amount in USD, and submit the transfer.

Deposited funds will show up in your USD wallet balance.
Step 4: Start Trading Crypto
Click "Trade" on the top menu bar and choose a crypto to buy or sell.  

Enter the dollar amount or quantity to buy/sell and preview the transaction.

Double check trading pair, fees, and other details then click "Buy" or "Sell" to execute.

Your crypto balance will update automatically in your account portfolio.
And that's it! You have now successfully funded your Coinbase account, executed a trade and own cryptocurrency. You can trade more coins or withdraw to an external wallet.
Storing Crypto on Coinbase
Once you buy crypto on Coinbase, you may choose to store it on the exchange or transfer it elsewhere. Here are the main options:
Store on Coinbase: Keep coins in Coinbase account. Easy to trade and sell but higher risk.
Coinbase Vault: Offline storage with time delayed withdrawals for security.
Coinbase Wallet app: Store crypto yourself with private keys. Required to use dApps.
Personal hardware wallet: Use a Trezor or Ledger device for offline storage. Highest security.
Other wallets: Mobile, desktop, or web wallets offered by third parties. Research security first.
Storing coins on Coinbase or Coinbase Vault makes trades instant and keeps coins accessible online. But you must trust Coinbase's security and insurance policies.
Withdrawing to an external wallet puts you in full control but the security is then your responsibility. Hardware wallets offer superior security for long-term holdings. 
READ ALSO: An Introductory Guide to Blockchain Technology and How It Can Transform Industries
Coinbase vs Coinbase Pro
Coinbase operates two separate trading platforms – standard Coinbase and Coinbase Pro. Here's how they compare:
Coinbase is tailored for beginner investors with an easy to use interface but higher fees. 
Coinbase Pro caters more to active traders with advanced charts, order types, lower fees but a more complex interface.
Coinbase supports credit/debit cards and bank transfers while Coinbase Pro just uses wire transfers.
Coinbase offers an iOS/Android app while Coinbase Pro must be used on desktop web.
Pricing models differ – Coinbase uses spreads while Coinbase Pro uses classic maker/taker fee model.
Coinbase offers staking rewards on certain coins while Coinbase Pro does not.
In general, Coinbase is better for new, casual traders that value convenience over lower trading costs. Coinbase Pro is suited for high volume, active traders who require more advanced tools and cheaper fees.
You can use the same Coinbase account on both platforms and easily transfer funds between each. Open a Coinbase Pro account for free to try it out.
Is Coinbase Safe and Legit?
As an early pioneer in the crypto space, Coinbase has consistently demonstrated it is a legitimate company that takes security and compliance seriously. Here's why Coinbase is considered safe and trustworthy:
Fully compliant with applicable regulations and licensed in all operating jurisdictions.

$255 billion in crypto assets traded with no major security breaches.

Backed by major venture capital firms and publicly traded company. 

Stores 98% of user funds offline in secure, audited cold storage.

Maintains FDIC insurance for cash balances and private insurance for crypto.

Strong track record in cybersecurity with industry leading protocols in place.

Partnered with top institutions like ARK Invest, USDC, Visa, and others.
No company is perfect, but Coinbase has earned significant trust in the cryptocurrency industry over the past decade and continues to invest in security and compliance. Just be sure to follow good security practices like using 2FA.
Coinbase Alternatives
While Coinbase is popular for beginners, more experienced users may want to consider alternative platforms. Some key Coinbase alternatives include:
Binance: World's largest crypto exchange with low fees and hundreds of coins.
Crypto.com: Popular platform for trading and crypto debit cards. 
Gmini: Regulated US exchange founded by Winklevoss Twins with low fees. 
Kraken: Veteran US crypto exchange supporting futures trading. 
Bisq: Decentralized open-source exchange with strong privacy focus.
Coinbase Pro: Coinbase's own advanced exchange app with low fees.
Evaluate factors like location/licensing, fees, coin selection, security practices and advanced features offered when choosing a platform.
Conclusion
Coinbase has become synonymous with crypto trading, especially for first-time investors getting their feet wet. The fully mainstream exchange makes dipping into crypto investing easy even for complete beginners.
While Coinbase is not without some drawbacks like high fees and limited coin selection compared to some exchanges, its focus on security, compliance and ease of use provides peace of mind. Just take precautions like enabling two factor authentication and not storing all your crypto assets in any single place.
This guide should give you a complete overview of getting started with Coinbase as a beginner. Take it slow, do your research, and never invest more than you can afford to lose when it comes to volatile crypto assets.
Frequently Asked Questions
What countries does Coinbase support?
Coinbase supports customers in over 100 countries but has licenses to operate as a regulated brokerage in the United States, United Kingdom, European Union, Singapore, Canada and Australia among others.
Does Coinbase report to the IRS? 
Yes, Coinbase complies with IRS regulations by issuing Form 1099-K reports to users flagged for 200 or more transactions exceeding a total of $20,000 in value per year. The IRS treats crypto as property similar to stocks for tax purposes.
Is Coinbase insured?
Coinbase maintains private insurance coverage for crypto assets held online, with funds stored offline covered completely. Cash balances are insured up to $250,000 by the FDIC. Your account is insured for up to $250,000.
What are Coinbase fees?
Rather than trading commissions, Coinbase charges a spread, payment processing fees (1.5% for cards), and blockchain network fees. Overall fees for most transactions end up around 2% – 3% depending on factors like location and payment method.
Does Coinbase support PayPal or Venmo?
Coinbase currently supports PayPal and Venmo as payment methods for buying crypto in the United States. However, crypto cannot be sold back to PayPal or Venmo accounts – only to bank accounts.
Is Coinbase wallet safe?
The Coinbase hosted wallet provided for each account is secured through full encryption, 2FA, and mostly offline storage of private keys. For improved security, use the Coinbase Vault or withdraw to an external wallet.