Understanding Personal Loans and How They Work
A personal loan is a type of installment loan that you can use for almost any purpose. Personal loans allow you to borrow a lump sum of money and repay it over a set period of time with a fixed monthly payment. The repayment terms are usually between 1 and 7 years.
Unlike other types of loans, personal loans are unsecured, meaning you don't have to put up collateral. Lenders will look at your credit score and income to determine whether to approve you and at what interest rate. This makes them useful for consolidating high-interest debt or financing major expenses.
How Do Personal Loans Work?
When you take out a personal loan, the lender will deposit the full loan amount into your bank account in one lump sum. You'll then make fixed monthly payments until the loan is fully repaid. These payments are the same each month and include both principal (the original loan amount) and interest.
Personal loan amounts typically range from $1,000 to $50,000, but can sometimes be as high as $100,000. The interest rate and fees you pay will depend on factors like your credit history, income, and the lender. The better your credit score, the lower your interest rate is likely to be.
Most personal loans have terms of 1 to 7 years. Longer terms mean lower monthly payments, but you'll end up paying more interest over the life of the loan. Shorter terms have higher monthly payments but less interest accrual.
When you apply, the lender will do a hard pull on your credit report to check your creditworthiness. Multiple hard inquiries in a short period can negatively impact your credit score. However, taking out a personal loan and making consistent on-time payments can improve your credit profile over time.
Top Uses for Personal Loans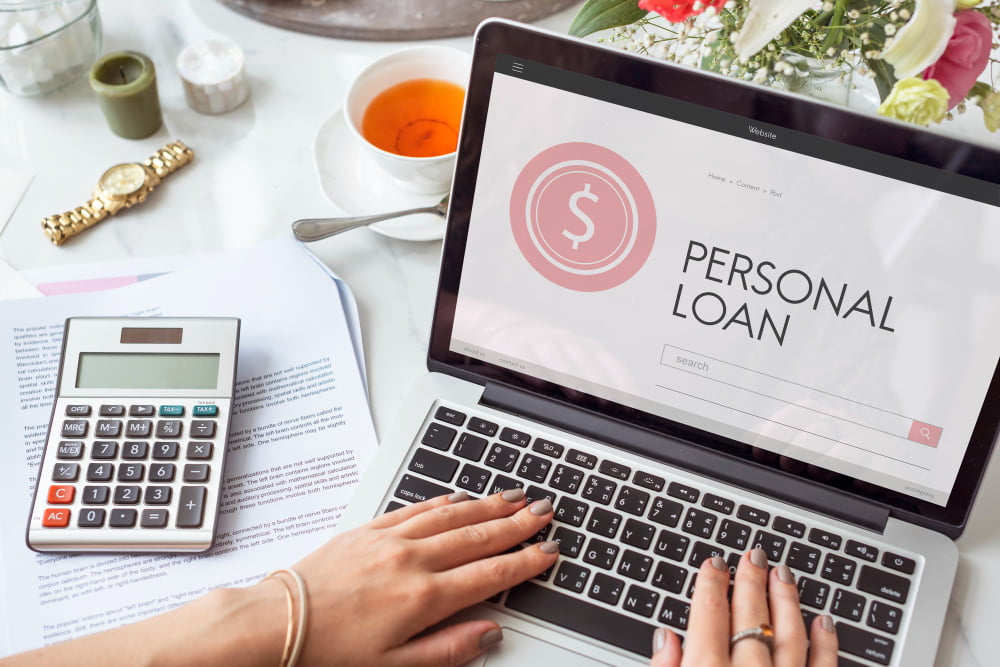 Personal loans are very flexible, which makes them popular for all kinds of uses. Here are some of the most common uses for personal loans:
Debt consolidation

– Personal loans allow you to combine multiple high-interest debts into one manageable payment at a lower interest rate. This can help simplify your finances and save money on interest.

Major purchases

– Use a personal loan to finance large expenses like home renovations, medical bills, or a wedding. The fixed monthly payments help you budget for the purchase.

Emergencies –

Job loss, unexpected medical expenses or car repairs can be managed with a personal loan if you don't have an emergency fund. However, only borrow as much as absolutely needed.

Life events

– Personal loans allow you to fund adoption fees, fertility treatments, or other major life goals.

Travel –

Some lenders even approve personal loans for vacations as long as you have a way to repay it.

Moving expenses –

If you're relocating, personal loans can cover moving truck rentals, security deposits, etc.
No matter what you need the money for, make sure you only borrow what you can reasonably afford to repay. A personal loan is still debt that comes with interest, so you don't want to end up overextended.
READ ALSO: VA Loans Requirements: Minimum Credit Score For VA Loans
What Should I Know About Interest Rates?
The interest rate on a personal loan is a major factor determining the overall cost. Understanding how interest works is key when shopping for a personal loan.
How Personal Loan Interest Works
All lenders charge an interest rate on personal loans, which is a percentage of the principal loan amount. For example, a $10,000 loan with a 10% annual interest rate would accrue $1,000 in interest charges yearly.
This interest gets added to your regular monthly payments. So if you took a 2-year $10,000 loan at 10%, your monthly payment would be about $470. Of that, around $83 goes toward interest and the rest pays down the principal.
Interest ensures the lender makes a profit on the loan. The higher the rate, the more interest you pay overall, increasing the total cost of the loan. That's why it's crucial to get the lowest rate possible based on your creditworthiness.
What Impacts Your Interest Rate?
Personal loan interest rates range from about 3% to 36%, with averages around 9% to 12%. But your specific rate depends on:
Credit score –

The higher your score, the better the rate since you're seen as lower risk. Scores above 720 qualify you for the best rates.

Income –

Lenders want to see you have enough income to manage the payments. Higher income means better rates.

Loan term –

Shorter terms often have lower interest rates. A 3-year loan likely has a lower rate than a 5-year loan.

Lender –

Each lender has its own criteria that determines their interest rates. Comparison shopping is key.

Loan amount

– For some lenders, higher loan amounts mean higher interest rates. But for others, rates stay the same.

Usage –

Personal loans used for debt consolidation or home improvement may get better rates from some lenders.
Shopping around and comparing quotes from multiple top lenders is the best way to find both the lowest rate and best overall loan for your situation.
Should I Get a Fixed or Variable Rate?
Personal loans typically come with either a fixed or variable interest rate:
Fixed rates stay the same over the full loan term. Your monthly payment is always the same.

Variable rates fluctuate based on market conditions and the prime rate. Your payment changes with rate adjustments.
Fixed rates are preferable because they provide consistent, predictable monthly payments you can easily budget for. Variable rates seem enticing when rates are low, but they come with the risk of spikes that make your loan much more expensive over time.
Some personal loans advertise rates as low as 2% to 5%. But beware – these are often variable rate loans with introductory promotional periods of 3 to 18 months. Once that period ends, the rate can soar to double digits.
Always opt for a fixed rate when possible so you know what to expect each month. The stability makes managing your budget easier.
READ ALSO: National Funding Small Business Loans: Your Ultimate Guide in 2023
How Do I Get a Personal Loan?
Getting a personal loan requires researching lenders, checking rates, and completing an application. Here are the basic steps to get a personal loan:
Check Your Credit
Before applying, always check your credit reports and scores. Good credit (a FICO score of at least 690) unlocks better rates that save you money. If your credit needs work, take some time to improve it before applying.
Compare Lender Options
Research different lenders like banks, credit unions, and online lenders. Prequalify with multiple lenders to compare rates and terms side-by-side without impacting your credit score.
Focus on lenders that offer fixed rates and flexible terms for your needs. Banks often have higher approval standards, while online lenders may have higher rates but accept more applicants.
Submit Your Application
When you're ready to apply, submit a complete application with all required information. This usually includes:
Personal details (name, DOB, SSN, address)

Income and employment information

Credit history and scores

Loan amount requested

Requested repayment terms
Provide accurate, truthful information. Any discrepancies could lead to a denial.
Get Approved
The lender will review your application and verify your details. If approved, you'll receive loan terms including the rate, fees, and monthly payment amount. Make sure to carefully review the offer before accepting.
Receive Funding
Once approved and you accept the offer, the lender will deposit the full loan amount directly into your bank account, usually within a few business days. Then, you'll make your first monthly installment payment.
With a fixed-rate loan, on-time payments will help you pay off the balance over time until it's paid in full. Be sure to budget for the monthly payments in your living expenses.
READ ALSO: What's the Average Personal Loan Interest Rate?
What Do You Need to Apply for a Personal Loan?
When applying for a personal loan, most lenders require similar information and documents. Having these ready will help your application go smoothly:
Identification

– Government-issued ID like a driver's license or passport.

Social Security Number –

This allows the lender to pull your credit report.

Income verification

– Pay stubs, tax returns, or bank statements showing regular income.

Employment information –

Your job title, years worked, employer name and contact.

Residence history

– Home address for the last 2 to 5 years to determine stability.

Existing debts

– Details on current debt balances, minimum payments, interest rates.

Bank account details –

Account and routing number so funds can be deposited.

Collateral –

For secured loans only, proof of the collateral's value.

Usage explanation –

Reason and details on how you plan to use the loan.
Having these documents ready before starting applications means you can complete them faster. That's important since application fees can apply after a certain time period passes.
Double check that all information submitted is accurate. Any discrepancies or conflicting data could raise red flags and jeopardize your approval.
What is the Average Interest Rate on Personal Loans?
Personal loan interest rates can vary dramatically by lender, applicant creditworthiness, loan amount, and other factors. However, the average interest rate is generally between 9% and 12%.
Here's an overview of typical interest rate ranges based on credit score:
Exceptional credit (780+ score): 3% to 7%

Very good credit (740-779 score): 7% to 10%

Good credit (670-739 score): 10% to 15%

Average credit (640-669 score): 15% to 20%

Poor credit (below 640 score): 20% to 36%
Online lenders currently tend to offer the most competitive rates, especially for borrowers with good credit or higher. Average online lender rates range from 4% to 12%, while banks offer 9% to 18%, and credit unions 7% to 14%.
But remember, the interest rate offered to you will depend on other factors too, including:
Debt-to-income ratio

Income amount

Loan term length

Loan purpose

Relationship with lender
Getting prequalified by multiple lenders is the best way to discover the rates available to you. Compare those rates to find the best loan program and term length for your needs.
How Do Personal Loans Affect Your Credit Score?
Taking out a personal loan can impact your credit score in a few key ways:
Credit Inquiries
Each time you apply for a personal loan, the lender does a hard inquiry on your credit report. Too many hard inquiries in a short timeframe can negatively impact your score by a few points.
However, FICO allows rate shopping by counting multiple inquiries from the same type of lender within 45 days as just one inquiry. So shopping around for a personal loan won't hurt your score as long as you do it within a month and a half.
Lower Credit Mix
Closing out credit cards or other loans to consolidate debt with a personal loan can lower your credit mix. Lenders like to see you have experience managing different types of credit, so having installment loans, revolving credit, and mortgages improves your score.
Higher Credit Utilization
If you use a personal loan to consolidate credit card balances, having that large loan on your record can increase your overall credit utilization ratio, which can negatively impact your score if too high.
Make sure your credit limits on open cards remain well above the balances so you keep utilization low. Limit use of those cards once the balances are paid off by the personal loan.
On-Time Payments
The most positive impact on your score comes from making all your payments on time each month. This builds your credit history and proves you're a reliable borrower, which causes your score to steadily improve over the loan term.
Even just one or two late payments can hurt by several points. So be sure to budget for the monthly personal loan payment so you never miss it.
Overall, used responsibly and paid on time, a personal loan can help build your score over the years it takes to repay by adding a mix of credit and positive payment history. Just make payments on time and keep credit card balances low.
To Recap
Personal loans provide an accessible way to get financing for big purchases, consolidate high-interest debts, cover emergencies, and fund major life goals. Their unsecured nature means approval is based primarily on your creditworthiness.
Shopping around amongst online lenders, banks, and credit unions allows you to compare interest rates and terms to find the most affordable option. Taking the time to improve your credit score before applying saves you thousands on interest.
While a personal loan is a significant financial commitment, making all your payments on time establishes positive credit history and improves your credit profile over the loan term. Responsible use of a personal loan can open doors to better loan rates and products in the future.
Just be sure to only borrow what you can reasonably afford to repay on the income you have. And set up automatic payments from your checking account to never miss a payment and damage your credit with late fees or delinquencies. Used wisely, a personal loan can be an affordable financing option when planned for strategically and managed diligently.
Frequently Asked Questions About Personal Loans
What are the general requirements to qualify for a personal loan?
Here are the typical requirements lenders look for when considering a personal loan application:
Good credit (around 670 FICO score or higher)

Verifiable income of at least $2,000 per month

Low debt-to-income ratio (below 40% is best)

At least a year with your current employer

No recent bankruptcy or foreclosure (usually within the last 1-2 years)

Collateral may be required for loans above $15,000 to $20,000
Meeting these requirements proves you likely have the means to repay the loan responsibly. Each lender has its own specific underwriting standards, so your exact qualifications can vary.
How long does it take to get approved for a personal loan?
Approval times vary by lender but can range from 1 to 7 business days in many cases. Online lenders and smaller banks typically have the fastest process while large traditional banks tend to take longer.
The more quickly you submit all required documents and information, the faster a decision can be made. Having good credit and meeting the lender's income and debt requirements also streamlines approvals.
To get funding as quickly as possible, try online lenders like Lightstream, SoFi, Upstart, or LendingClub, who can often deposit approved loans within one week.
Where can I get the best personal loan rates?
Currently, some of the best rates are offered by online lenders like Lightstream, SoFi, Marcus by Goldman Sachs, Upgrade, and PenFed Credit Union. Their rates for borrowers with good credit start as low as 3% to 7%.
Online lenders can offer lower rates due to their lower overhead expenses compared to traditional brick-and-mortar loan providers.
Banks typically have higher rates in the 7% to 12% range, while credit unions offer better rates around 6% to 15%. Always compare multiple quotes to find the best rate you qualify for.
Can I get a personal loan with bad credit?
Yes, you can still get approved for a personal loan with bad credit, but will pay much higher interest rates. Some lenders specialize in bad credit loans but charge very high APRs.
A better option may be a secured loan or credit builder loan requiring collateral but with more reasonable rates. Or, work on improving your credit before applying so you can qualify for better unsecured loan rates.
How long does a personal loan stay on your credit report?
A personal loan stays on your credit report for up to 10 years from the date it was opened. Even once paid in full, the loan history remains on your report for that duration and impacts your score.
If you close an account in good standing, it can continue boosting your credit for the full decade it reports. But if any payments were missed, those negatives will hurt your score over the same period.
Can you get denied for a personal loan?
Yes, it's possible to get denied for a personal loan. The most common reasons for denial are:
Poor credit (below 620 FICO)

High debt-to-income ratio (above 40%)

Insufficient income for the loan payments

Limited or poor credit history

Recent bankruptcy or foreclosure

Too many recent credit inquiries
If denied due to credit or income, try improving your profile by paying down debts, getting a cosigner, or waiting a few months to apply again after improving your score or income. Seeking a smaller loan amount may also get you approved.
Are personal loans tax deductible?
No, in most cases personal loan interest is not tax deductible. An exception is if you use the loan proceeds specifically to invest in or improve a rental property the loan is used for.
Student loan interest can also sometimes be deducted up to a certain amount based on income. But for all other personal, auto, and mortgage loans, the interest is generally not tax deductible.
In another related article, Unleashing the Power of Credibly Small Business Loans in 2023