In the quest for a cash advance app without direct deposit, you must assess various aspects to make a prudent choice. These considerations encompass the app's interest rates and fees, eligibility prerequisites, flexibility in repayment, and the presence of financial management tools.
Understanding Cash Advance Apps Without Direct Deposit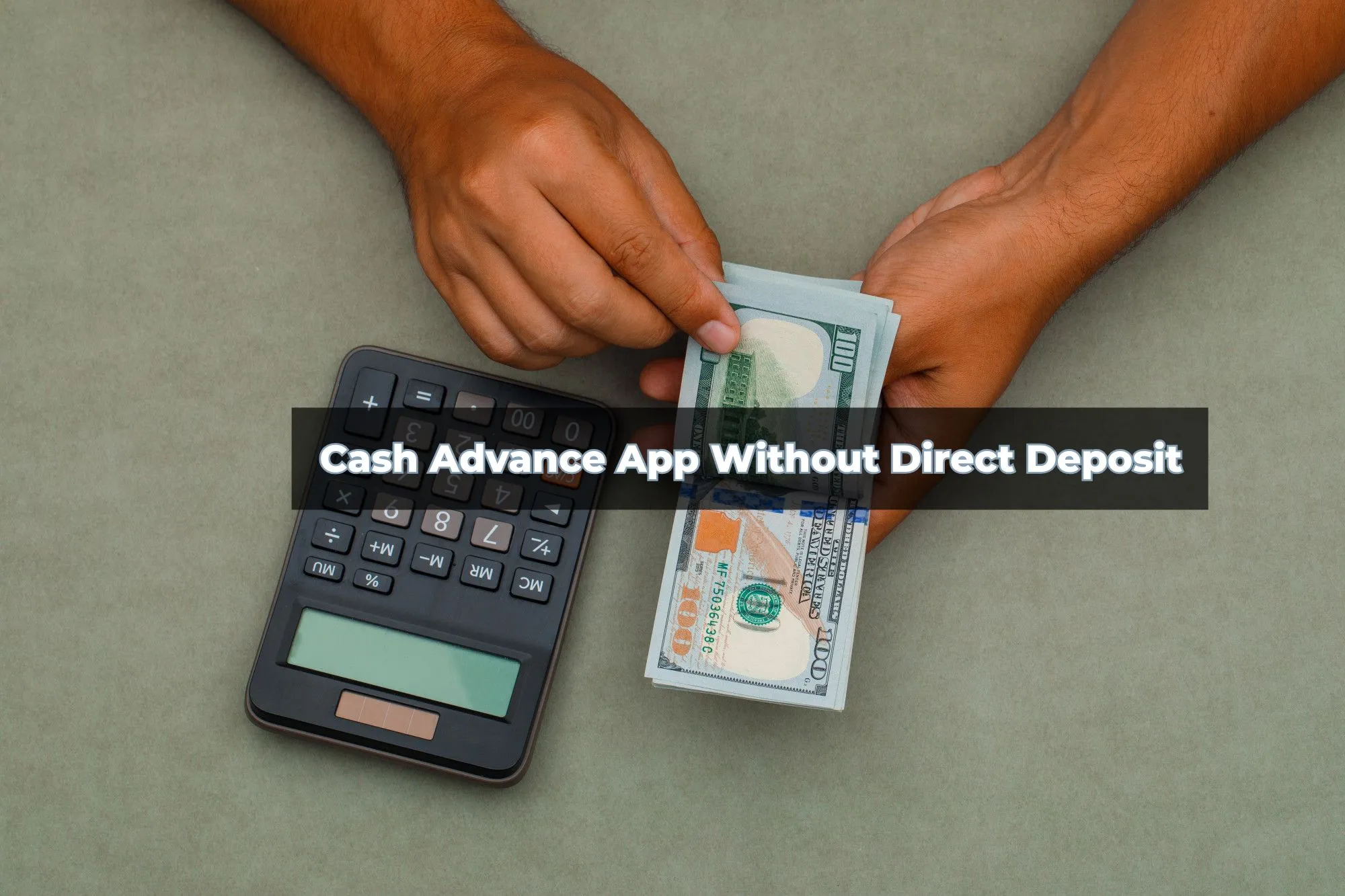 Learn the inner workings of cash advance apps without the direct deposit stipulation, including their security measures and the repayment process.
The Mechanism of Cash Advance Apps
Understanding the functionality of cash advance apps is crucial. In essence, these apps expedite access to funds, bridging the gap between paychecks or addressing unexpected financial outlays. Users typically download apps such as Albert or MoneyLion and link their checking accounts for authentication purposes.
The sum available for borrowing differs across apps but commonly ranges between $100 and $250, with repayment expected within one to two weeks. Many cash advance apps levy fees, predominantly in the form of subscription charges and tips, rather than imposing the high-interest rates typical of traditional payday loans.
It is imperative to meticulously review the terms and conditions before accepting any loan offers from a cash advance app, as each provider has its unique stipulations regarding loan sums, APRs, late charges, and processing times.
Safety of Cash Advance Apps
As with any financial product, safety is a paramount concern for cash advance app users. Although there are occasional apprehensions about the security of personal data when using these apps, they are generally safe for use.
Nonetheless, it's vital to exercise prudence when selecting a cash advance app, choosing exclusively those from reputable companies with well-established track records.
Another safety consideration is the potential trap of recurring borrowing and accumulating debt. While cash advance apps furnish quick access to modest sums, frequent borrowing without punctual repayment can engender escalating fees and protracted financial liability.
Repayment Mechanism for Cash Advances
Typically, the funds owed are automatically debited from your bank account on the prearranged due date. Some cash advance apps proffer enhanced flexibility concerning payment dates and repayment schedules.
For instance, Brigit extends the option of postponing the due date by up to three days sans any accompanying fees or penalties.
It is imperative to scrutinize the terms and conditions of each app prior to accepting a loan, comprehending the schedule and the precise amount to be withdrawn from your bank account. Certain apps may encompass subscription fees or fast-funding fees that can accumulate over time, underscoring the necessity of meticulous consideration.
READ ALSO: Chime Cash Advance: How Cash Advances Work on Chime Accounts
Key Features to Deliberate
If you're a user of cash advance apps, it's paramount to scrutinize each app's characteristics before making a decision. Here are essential factors to contemplate:
Eligibility Requirements
Each cash advance app comes with its set of eligibility criteria, which often involve credit scores and income thresholds. Verify whether you meet these prerequisites before proceeding with your application.
Loan Amount
The quantum of loans varies among apps, so it's vital to gauge your borrowing needs and identify an app that can adequately accommodate them.
Loan Term
Different apps proffer distinct repayment periods. Ensure that the repayment schedule aligns with your financial commitments.
Fees
Numerous cash advance apps levy fees for their services, encompassing subscription charges and fast-funding fees. Familiarize yourself with these costs before selecting an app.
Interest Rate
Interest rates differ across cash advance apps, with some providing interest-free loans while others charge higher rates. Scrutinize the Annual Percentage Rate (APR) and compute the overall borrowing expenses before making your choice.
Repayment Flexibility
Consider whether the app offers alternative repayment methods or extensions, as this could be valuable in the future.
Processing Time
Your urgency for funds may vary. Some may necessitate immediate access, while others can afford to wait a few days. Choose an app that aligns with your timing needs.
Customer Support
Select an app with accessible customer support for addressing inquiries and concerns throughout your borrowing journey.
By taking these features into account, you can opt for a cash advance app that precisely fits your requirements, promoting responsible borrowing practices.
Eligibility Requirements 
To determine your eligibility for a cash advance app that doesn't necessitate direct deposit, evaluate the following prerequisites:
Must-Have a Bank Account
Most cash advance apps mandate users to possess a checking or savings account. A few may also accept credit union accounts.
Must Receive Regular Income
Many apps require a stable income source, be it a paycheck or government benefits.
Must Meet Minimum Age Criteria
Typically, users must be 18 years old or older to apply for most cash advance apps.
Must Possess a Valid Social Security Number
A valid social security number is mandatory to authenticate your identity and deter fraudulent activities.
Must-Have a Smartphone
Cash advance apps are predominantly mobile applications, necessitating smartphone access.
Good Credit is Not Always Necessary
While some cash advance apps insist on good credit, many cater to individuals with poor or nonexistent credit histories.
Considering these eligibility stipulations before applying for a cash advance app can heighten your chances of approval and avert needless rejections.
Alternatives to Cash Advance Apps
Exploring other borrowing avenues is always advisable. Consider the following alternatives:
Personal Loans
Personal loans from banks or credit unions often offer lower interest rates and lengthier repayment terms compared to payday loans.
Credit Card Cash Advances
Credit card cash advances are an option for swift funding, although they are accompanied by steep fees and interest rates.
Borrowing from Friends or Family
Borrowing from acquaintances may present favorable terms and trust-building, though it's prudent to formalize terms in writing.
Online Lenders Offering Credit Builder Loans
Several online lenders extend "credit builder" installment loans, facilitating borrowing for individuals with poor or no credit history while enhancing their credit scores.
Credit Union Loans
Credit unions are another avenue for obtaining personal loans at interest rates below what high-interest payday loans impose.
Embrace Financial Planning
A pivotal facet of managing cash advance apps is proficient financial planning. Here are some strategies for budgeting and financial management to ensure responsible app utilization:
Craft a Comprehensive Budget
Before borrowing, calculate your precise requirements and repayment capacity. Draft a comprehensive budget that encompasses all income and expenditures.
Monitor Your Expenses
Keep meticulous tabs on every expense, even minor ones like coffee or snacks. Identifying areas where you can cut back can bolster your savings.
Set Financial Objectives
Whether it's debt clearance or saving for substantial acquisitions, having financial goals can keep you motivated and on course.
Restrict Excessive Borrowing
While the allure of swift cash is enticing, overindulgence in borrowing can lead to debt and financial strain. Borrow solely for essential needs, avoiding extravagance.
Prepare for Contingencies
Unanticipated expenses can surface at any moment. Maintain an emergency fund to mitigate these situations and reduce reliance on excessive borrowing.
Always scrutinize the fine print before committing to any cash advance app, ensuring that fees, interest rates, and repayment terms harmonize with your financial situation. By adhering to prudent budgeting and financial planning, cash advance apps can prove invaluable in bridging short-term financial gaps.
Avoiding Superfluous Borrowing
As a user of cash advance apps, it's paramount to eschew superfluous borrowing to sidestep debt accumulation. Adhere to these guidelines for prudent borrowing management:
Vigilant Expense Tracking
Meticulously manage your expenses and budget to ensure that your borrowing doesn't surpass your repayment capacity.
Borrow Prudently
Confine your borrowing to essential expenses and shun utilizing cash advances for non-essential or luxurious items.
Streamline Borrowing
Steer clear of juggling multiple cash advance apps simultaneously, as it can lead to complexities. Explore alternative lending options for larger sums or extended repayment durations.
Leverage Repayment Flexibility
Employ the repayment flexibility provided by cash advance apps to harmonize your repayment schedule with your income and expenses.
Watch for Fees
Remain cognizant of charges such as subscription fees and fast-funding fees, which can accumulate and inflate the overall cost of borrowing.
Utilize Financial Tools
Harness financial tracking and budgeting utilities offered by select cash advance apps to maintain financial organization and adherence to your fiscal plan.
READ ALSO: Cash Advance Capital One: A Comprehensive Guide
Realize the Transitory Nature of Borrowing
Borrowing should be perceived as a temporary recourse, not a protracted financial strategy. Exercise discretion in your financial decisions and abstain from overreliance on cash advance apps.
Concluding Remarks
In conclusion, cash advance apps furnish a convenient and adaptable method for bridging transient financial disparities among those seeking rapid financial relief. Although many of these apps necessitate direct deposit for repayment, alternatives that don't enforce this prerequisite are accessible.
By examining factors such as eligibility criteria, fees, and repayment flexibility, users can pinpoint the optimal app tailored to their financial requisites. Always remember to utilize these apps judiciously by cultivating precise budgeting and sidestepping excessive borrowing.
FAQs: Cash Advance Apps with No Direct Deposit
Curious about cash advance apps without the direct deposit stipulation? Here are answers to some frequently asked questions:
What is a cash advance app with no direct deposit?
A cash advance app with no direct deposit enables users to access funds without the condition of directly depositing their paychecks into a bank account.
Can I use a cash advance app like Earnin if I don't have direct deposit?
Certainly, you can utilize an app like Earnin even without direct deposit. Earnin allows users to connect their bank accounts and employs their employment details to ascertain eligibility for a paycheck advance.
Are there other apps that permit borrowing without direct deposit?
Indeed, numerous loan apps offer the option to borrow funds without the necessity of direct deposit, including Dave, Chime, Albert, and Cash App.
Will using a cash advance app impact my credit score?
Typically, the employment of a cash advance app does not impact your credit score. Most apps abstain from conducting credit checks or transmitting information to credit bureaus.
What is overdraft protection, and how does it relate to cash advance apps?
Overdraft protection is a feature furnished by certain banks to shield against overdraft charges when expenditures surpass the available balance. Some cash advance apps present overdraft protection as an alternative to traditional payday loans.
What are some of the best cash advance apps?
Among the top-tier cash advance apps are Earnin, Dave, Chime, Albert, and Cash App.
How do cash advance apps operate?
Cash advance apps function by granting users the capacity to request a loan or a paycheck advance via the app. Users can typically withdraw money directly from the app or have it deposited into their bank account.
Are there any fees associated with using a cash advance app?
Yes, some apps may levy fees such as express fees or monthly subscription fees. It's crucial to read the terms and conditions of each app before use.
Can I still use a cash advance app if I have bad credit?
Certainly, many cash advance apps do not necessitate a credit check, making them a viable option for individuals with suboptimal credit.
Is using a cash advance app the best option if I need to borrow money?
While a cash advance app can provide a swift and convenient way to secure funds, it's prudent to consider all available options and select the one most suitable for your unique circumstances.
In another related article, Cash Advance Apps that Do Not Use Plaid: Your Ultimate Guide